On July 21, 2014 in the Verkhovna Rada of Ukraine a meeting of the Chairman of the Committee on Agrarian Policy and Land Relations Grygorii Kaletnik and the director of the project IFC «The investment climate in the agricultural sector of Ukraine" Evgen O
Back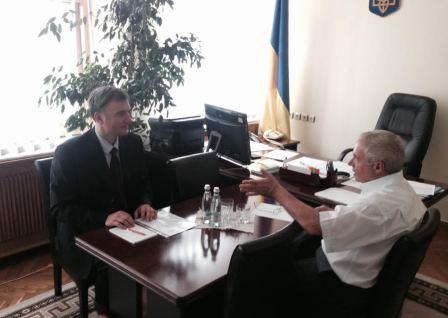 On July 21, 2014 in the Verkhovna Rada of Ukraine a meeting of the Chairman of the Committee on Agrarian Policy and Land Relations Grygorii Kaletnik and the director of the project IFC «The investment climate in the agricultural sector of Ukraine" Evgen Osmokiesku took place.
The main purpose of the meeting was the discussion of the question of extending to Ukraine the next tranche of the credit of sustainable development from the World Bank in the amount of $750 million.
The Chairman of the Committee, together with the guest were discussing one of the key conditions of extending of the credit- namely, the adoption of the law "On amendments to some legislative acts on food" (registration number 4179), in which the main executor is determined the Committee on Agrarian Policy and Land Relations.
As Grygorii Kaletnik noticed, this bill is comprehensive for the reform of the state system of food safety and quality of food raw materials that is an important component of the economic security of each state. At the same time, during consideration in the Commetee of the Verkhovna Rada of Ukraine on Agrarian Policy and Land Relations it was noticed that the bill should be examined comprehensively with the bill "On State Control which is carried in order to verify the compliance with the legislation on the safety and quality of food and feed animal health and welfare" (Reg. № 4986-1), to provide the most comprehensive approach to these issues.
Also current issues were discussed, namely about taking measures aimed to creating a legal base for the development of production and consumption of alternative fuels in Ukraine. As it was mentioned, today it is a key issue at a time when Ukraine needs energy security. It should be noted that agriculture itself is a powerful source of raw materials for biofuels.
---