Grygorii Kaletnik greeted the resident of the village Andrushchivka, Pypa Anna Mykolaivna, with the 90th birthday.
Back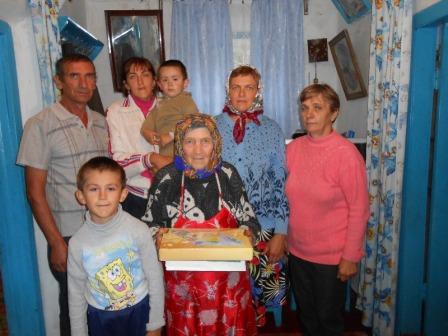 Pypа Anna Mykolaivna celebrated her 90th birthday. At the anniversary met a large family, which consists of 5 children, 11 grandchildren and 7 great grandchildren, they constantly visit and help Anna Mykolaivna.
During her life, she saw a lot of different things, as hundreds of her contemporaries. There was cold and hunger, but obviously she came into this world under a lucky star, as she stand up to all the trials. Tens of her best years she gave to work in the local collective farm. She had to go to work in cold days and mornings and bad weather. With her tireless work and conscientious attitude she earned the honor and respect of the villagers. Pypa Anna Mykolaivna expresses gratitude to Grygorii Kaletnik for the gifts and greetings on the occasion of her ninetieth birthday.
---